If you have a computer, a microphone and half a brain, you can have a podcast. No matter where your interests lie, or what kind of person you are: from comedy to drama, pregnant to geriatric, psychic to Mormon, there's pretty much a podcast for every walk of life. And since all of those groups mentioned have to eat to survive, you can bet there's a plethora of podcasts for those who love to feast.
Below is a list of our very favorite food podcasts, so you'll have something to do between meals. A warning, though: Just as you're not supposed to go to the grocery store hungry, we also advise you not to listen to these podcasts on an empty stomach.
Alie & Georgia's Favorite Food Podcasts

This is one of those podcasts that make being stuck in traffic OK, if not downright pleasurable. Always smart and funny, Rico and Brendan will make even the most socially anxious people look forward to a dinner party by doling out tips and how-to's in the wide world of dinner parties. Rad guests, like Patti Smith, Jon Hamm, and Patton Oswald impart their knowledge of all things mingling, music, food and manners.
Smart, funny, beautiful Joy The Baker. Okay, yes we're friends with her, but she's legitimately awesome as the hostess of her podcast, which is an extension of her hugely popular website of the same name. They cover a myriad of topics related to food, although sometimes not related to food, but always entertaining. You're gonna want to be besties with her and co-host Tracy Benjamin, we promise.
Comedians and actors Michael Ian Black and Tom Cavanagh host this hilarious and random podcast. You guys, Michael Ian Black and Tom Cavanagh! We could seriously listen to them talk about eyeball surgery for an hour, but lucky for us, they chose instead to eat snacks and talk about them.
Colorful commentary, fun guests, and a range of topics related to food. From discussions on kitchen accouterments, interviews with those in the culinary know, and conversations about the conundrum that is eating on dates, hosts Dan Pashman and Mark Garrison are perfect Sherpas through the wide world of food.
All the tips, tricks, and secrets behind throwing the perfect party — from tiki-themed to New Year's Eve, hosts Andy, Greg, and Nathan know their way around a pinata.
Go Fork Yourself with Andrew Zimmern and Molly Mogren
In a perfect world, culinary superstar Andrew Zimmern would be our best friend and mentor, and we would travel around the world while he drops his knowledge on eating bugs, cultural traditions and cooking. Also Molly Mogren would be there because she's rad. Because life isn't fair, this is impossible. Luckily, they have a podcast that is almost like hanging out with them.
Everyone's favorite booze enthusiast, Zane Lamprey, hosts this laid back podcast along with a gaggle of sidekicks. Fun interviews with people with equally liquor-soaked livers join Lamprey and his crew. Zane is a man's man, but everyone will love this playful approach to the art of drinking.
Authors and funny people, Molly and Matthew, make you giggle and hungry in equal parts. Any food podcast that is stamped with an "explicit" warning is a-ok in our book.
Bonus Pick: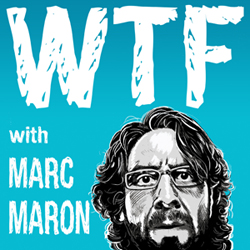 +

Anthony Bourdain on WTF with Marc Maron
Two people we would love to be stranded on a deserted island with, together in one room. This episode of Maron's neurotic and confessional podcast almost exceeds our "hot, ex drug addicted, cynical older men with salt and pepper hair" quota. Almost.
Alie Ward and Georgia Hardstark are best friends who met outside a tragically hip dive bar in Los Angeles. Together, they created the cocktail abomination called the McNuggetini. You can find them on Cooking Channel stirring up Drinks with Alie and Georgia, getting schooled on Classy Ladies and devouring desserts for Unique Sweets. Find out more about them here.