Forget Slurpees – at 7-Eleven in Singapore, you can get a Big Gulp of mashed potatoes. For a single Singapore dollar (about 79 US cents) you can score a healthy (in the quantitative sense) heap of pureed potato stuff topped with a drizzle of gravy.
While we are all for the convenience offered by vending machines, we think mashed potatoes might be better made at home. For not much more time or money, you can throw together some Fast Mashed Potatoes for Desperate Times. It's an even better investment if you factor in the airfare to Singapore.
Check a video of the machine in action after the jump.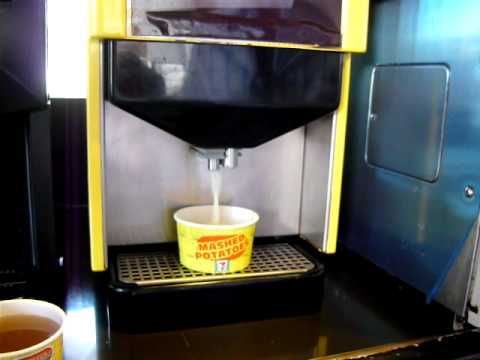 .
You're going to need a couple Big Gulps to wash that down.
Tyler Florence's Mashed Potatoes
Baked Mashed Potatoes with Parmesan Cheese and Bread Crumbs
Mashed Potatoes with Olive Oil and Pancetta
More Mashed Potato Recipes from Cooking Channel