Don't deny it: You get as excited as we do when promos for Hocus Pocus start popping up all over the airwaves.
Not only is Hocus Pocus the best Halloween movie of all time (comment below if you agree or disagree), but it also gave us this Halloween party gem: A spell-binding performance from (soon to star on Glee) Bette Midler.
"Thank you, Max, for the maaaarvelous introduction."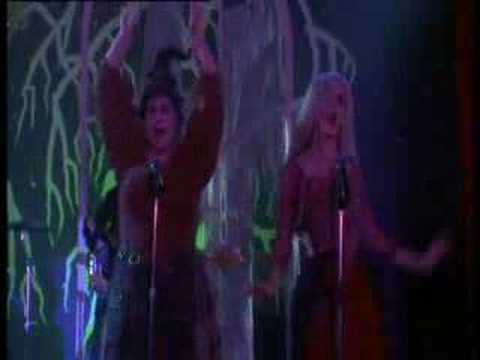 Call your friends, light the black-flame candle, and drink the witch's brew: We've got the best Hocus Pocus Halloween Party menu to knock your friends off of their broomsticks. 
A Hocus Pocus Party would not be complete without a potent potion. Good news: we just bubbled up a fresh batch of our Witches' Brew Cocktails in our cauldron.
To keep the Sanderson sisters away, add just a sprinkle of salt to our Salted Caramel Popcorn Balls. (Use more restraint than Allison, below).
Allison: "Well, it says to form a circle a salt to protect from zombies, witches, and old boyfriends."
Max: "And what about new boyfriends?"
Our brittle Bonz of The Dead cookies will make you feel right at home in the cemetery with Headless Billy Butcherson.
Click here for our Hocus Pocus Halloween Party Menu that will knock your friends off their broomsticks (or vacuum cleaners):
Winifred Sanderson: "WHY? Why was I cursed with such IDIOT sisters?"
Sarah: "Just lucky, I guess…"
Oh, one more thing:
Get all of the Hocus Pocus Halloween Party Recipes here.
CAST A SPELL THIS HALLOWEEN: